If its important to you, it's important to us.
A 2-3 person team will be sent to your home. We bring all of our own cleaning supplies and equipment. If there are any specialty products that you will require, we ask that you provide these at the time of your cleaning. We use Color Coded Microfiber towels to avoid the possibility of cross contamination. We do not use furniture polish, we will use a slightly damp microfiber towel to wipe down all the furniture, pictures and collectibles.
The Home Keepers recommends for your first cleaning having a Top-to-Bottom clean. This is a deep cleaning which allows us to remove the build up of old dirt. This makes maintenance much easier and more cost effective for future cleans.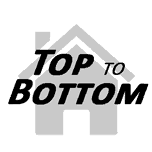 Top to Bottom Clean
Ideal for our first visit, this service gives you just what the name implies, a completely clean house from top to bottom.. Your house will feel brand new!
Every "Top to Bottom" service includes the following:
Ceiling fan blades wiped
Light fixtures washed in place (not removed)
Cobwebs removed
Blinds & shutters wiped by hand
Moldings & woodwork, window sills, & lock ledges wiped down
Baseboards reachable without moving furniture wiped down
All doors and frames washed
Lamps & lampshades dusted or vacuumed with attachment
Pictures and knick-knacks hand wiped
Furniture hand wiped with micro-fiber towel (top, fronts, sides, legs)
Refrigerator exterior wiped
Kitchen appliances cleaned on outside and Microwave inside & out
Stovetop drip pans scrubbed & removed to clean underneath
Stove vent hood cleaned (excessive grease may require multiple cleanings)
All cabinet fronts washed
Light switch plates washed
Counter tops & backsplashes washed
All sinks scrubbed & disinfected and mirrors cleaned
Tub/shower & tiles scrubbed (excessive buildup of soap scum & lime deposits may require more than 2 scrubbings, we will continue working on it on follow up visits)
All bathroom counters & fixtures sanitized
Wastebaskets emptied, washed & relined (trash bags not provided)
Beds made or changed if linens are available by bedside
Stairs vacuumed & wood wiped (upon request with Murphy's Oil Soap)
Floors vacuumed & mopped
Glass doors cleaned inside & out
Furniture vacuumed if pets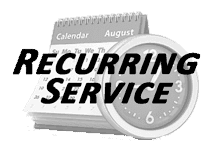 Recurring Service
A complete and thorough cleaning of your house, typical of a routine weekly cleaning that will help put your home back in balance.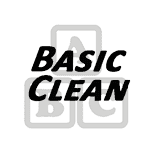 Basic Clean
Perfect for in-between your monthly or bi-weekly cleaning. It is a light clean with minimal movement of objects, focusing on the high traffic areas.
Additional Packages Include
Pet Package: Specialized Cleaning for Pet Owners
Outdoor Touch-up Package: Light Cleanup of Patio Areas
Custom Packages Available
Contact us and we will customize a package that's just right for you!
When you contact us we will ask you a few questions about your home. This will give our representative a chance to familiarize themselves with your home as well as any special requests. We are here to listen!